Beach Camping around Itacaré
There's nothing quite like sleeping under the stars to freshen your passion for environmental causes. Thankfully for environmental workers here at ETIV, and indeed for anyone in the city of Itacaré, we have dozens of kilometres of stunning coastline in either direction, perfect for a relaxing hike and camping by the beach. Heading south past the city beaches of Concha, Resende, Tiririca and Ribeira, it's a manageable hike up to Prainha, and the adventurous may seek to make it as far as Itacarezinho. 
Well, we recommend the opposite – why not take a boat taxi (7BRL, cash only) over the Rio de Contas from Praia da Coroa and head north past Pontal beach… Time your departure with low tide to tread the sands while firmer (your calves will thank you!) and take plenty of water and sunscreen for the 8km beach hike under the fierce Bahian sun. A couple of hours walking, leaving time for a snack break and a dip or two in the freshness of the sea, and you will end up in paradise – Piracanga beach. These stunning white sands give way to luscious palm forests and the mouth of a shallow river, perfect for bathing, feeds into an ocean of perfectly formed waves softly crashing onto the near deserted beach. 
Escape the hectic, crowded atmosphere of the party town of Itacaré and lounge on Piracanga beach by day, bathe in the tranquil freshwater of the river and in the evening, you can take a wonderful meal at the all-vegan restaurant at the Piracanga Ecovila (35BRL). This intriguing community of long-term and passing guests is a deceptively enveloping world of peace and catharsis, an entirely sustainable complex of dwellings and activity centres. While away the hours meeting locals, many of whom will give you real food for thought with their unorthodox life philosophies and their love of the spiritual world of oneness with nature. When darkness falls, a plethora of activities, many of them free of charge, opens up in the Ecovila. Remember that many people live here full-time, and you are their guest when taking part in community life here. When you've had your fill, retreat to the peace of your tent by the beach (better yet, your hammock!) and settle in for a night by the ocean under a star-filled sky. Let the gentle whisper of the waves lull you off to sleep – sunrise is early here, and tomorrow you'll want to do it all over again!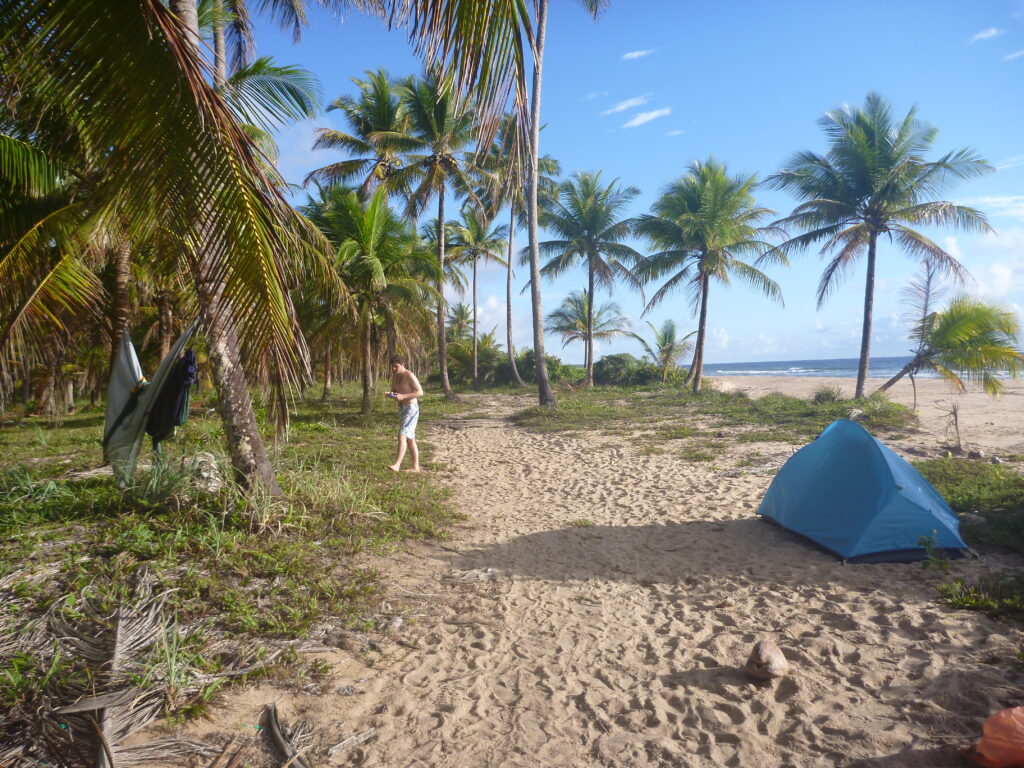 When the ETIV environmentalists visited, we were given a renewed sense of the emotional importance of the natural world we try to protect at the NGO. For all the spreadsheets of emissions figures and the journals on ecological destruction, sometimes it is important to regain that sense of awe at the restorative power of Mother Earth – and that's exactly what you get when you camp on Bahia's Cacau Coast. 
TOP TIP – PIRACANGA ECOVILA RESTAURANT
Open to visitors and offering truly gourmet options for breakfast (25BRL), lunch and dinner (both 35BRL), this all-vegan eatery is the perfect cheat code if you don't fancy lugging all your cooking equipment and foodstuffs along with you. We especially recommend the breakfast here (café da manhã in Portuguese), which is à vontade, or all-you-can-eat!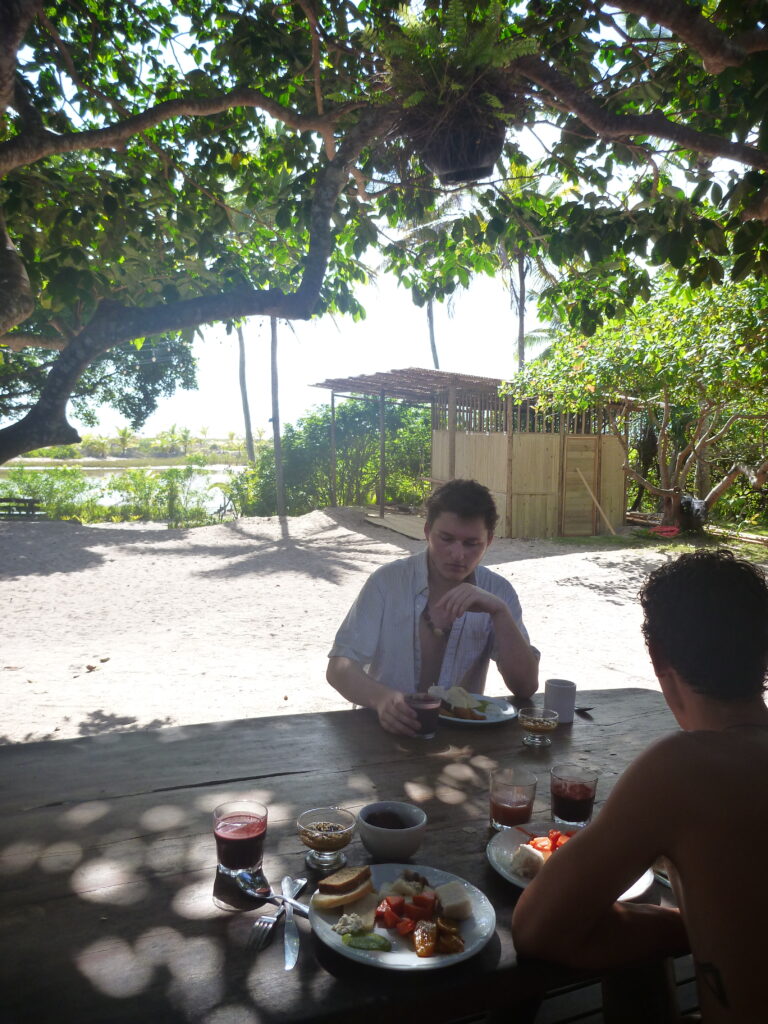 Served between 0070- 0830, it's a cornucopia of delicious sweet and savoury delights to kick off your day. For this reason, you'll want to pitch up camp relatively near the ecovila, but remember to leave a respectful distance out of deference to the residents – besides, you'll want to be nearer the beach for the cool breeze and soothing soundtrack…
by OJ Maitland
My experience combining my interest in data science and cultural immersion as an intern at ETIV.