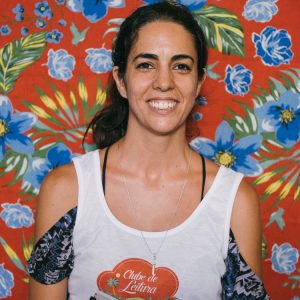 Born in São Paulo capital, Michele moved to the seacoast when she was only seven years old. Following her dreams of traveling the world, she enrolled in an English school while she was still studying Accountancy during her high school.
The decision to learn English completely changed her perceptions about her career path and soon she realized she actually wanted to be an English teacher. In 2001 she relocated back to São Paulo to work at a Business School of English (Wall Street Institute). Three years later she decided to move to England to further her English studies and experience personal growth in a different cultural scenario.
After two years in Europe, she moved back to Brazil and found home in Itacaré, Bahia, where she wanted to learn more about the local history culture, and also about the growing tourism industry in the region.
She worked for Warapuru Resort in their department of social-environmental issues as Coordinator/Teacher of a Tourism & English program aiming at offering language skills to local workers so they could develop their careers and find better jobs with higher salaries. The project, which ended in 2007, was a tremendous success, and served Michele as a passport to her new position within the Tourism & Culture Board of Itacaré.
She got her specialization in Cultural Project's Management and became the Executive Producer of a Film Festival - "Mostra de Cinema Multicultural/CINEMULTI" -, and the Coordinator of a music festival - "Festival Colombina"; both independent projects.
In 2012 she joined the Arapyaú Institute in Serra Grande to coordinate their cultural department, while also getting involved with Capoeira trainings and further studies about the Afro-Brazilian culture.
Her interest for the local culture and its African heritage only increased as she developed projects in partnership with local communities, business owners and NGOs conducting several socio-cultural events, and worked with the artistic community between Serra Grande, Itacaré and Ilhéus.
In 2015, as an Independent Producer, she worked in the second edition of the "Mostra de Cinema-Cinemulti" and the "Festival Colombina", as well as in the "Canduru Arts Festival" in Serra Grande, as an Artistic Producer.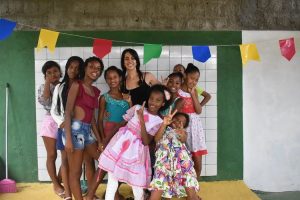 Michele has always been passionate about teaching so in the same year of 2015 she launched a group of studies called "Language Passport" to offer English and Portuguese classes in both Serra Grande and Itacaré. In 2016 she joined ETIV do Brasil as a Portuguese Teacher.
In 2017, when the LitClub was brought to Itacaré by ETIV do Brasil through a partnership with LitWorld and Global Glow on Her Story Campaign, she worked as a mentor in one of the two groups of the projects, located in the neighborhood of Bairro Novo. The following year, the LitClub grew to four groups (Bairro Novo, Passagem, Centro and Jeribucaçu) and Michele became the Coordinator of the entire program.
Michele believes Education is more than a basic need; it is a passport for positive change that, using arts and sports, can help us fighting social-economic inequalities which affect not only society as a whole but also the individuals in their self-esteem and ability to lead a happy life within a community.
In 2018 the LitClub was selected to take part on the III Global Her Story Summit in New York, where it was discussed an action plan to fight music that diminishes and objectifies women. Their goal was to promote a message of women empowerment, critical thinking and social activism through arts and education.
Michele still practices Capoeira when she is not busy coordinating the LitClub and My Language Passport projects, producing events such as the third edition of the Festival Colombina, and studying Digital Marketing.