THE ETIV COMPLEX IS STRATEGICALLY LOCATED IN THE "PASSAGEM" NEIGHBORHOOD, NOT FAR AWAY FROM THE BEAUTIFUL "CONTAS RIVER", HOME TO MANGROVES, FOREST AND ABUNDANT WILDLIFE!
A pleasant 13 minutes walk takes you to the historic downtown, and with 5 more minutes of walking you get to the beach. Our house offers you serenity and tranquility. While the rest of Itacaré is often sweltering hot in the summertime, "Passagem" and especially our house remain pretty cool in comparison.
In March 2020 we moved into our new ETIV complex. In our new main house is located our NGO office and employee housing. We offer 7 apartments, with different options:
three 1-bedroom apartments

three 2-bedroom apartments

one 3-bedroom apartment.
The ETIV Complex is the ideal place for volunteers and interns to stay at, and the vast majority of the applicants choose that option. We have a swimming pool where our volunteers can rest and have a swim. We also maintain a beautiful garden with fruit trees, plants and flowers that attract caterpillars, butterflies and birds, including hummingbirds.
We also have a compost pile in our yard of coconut trees. The riverfront is not far away from our house and has a beach with many fishing boats on it, offering gorgeous views of the beautiful peninsula that separates the river from the ocean. Sunrises and sunsets by the river are always something special!
While we do recommend staying with us, please note that our office is also in the house so those who prefer a more clear separation between work and home life are welcome to stay at one of our other accommodation options.
We do not have a washing machine, but a hostel nearby does have one and charges only R$30 reais for a load of 10kg. Also, please keep in mind that the ETIV Complex is on the edge of the Atlantic rainforest and we do occasionally encounter bugs including ants and even cockroaches, especially when volunteers do not contribute to keeping the house tight and cleaned.
Our cat "Cia" help us to keep the insects away, and he loves some cuddling. "Pino", our director's dog, often visits the house as well. We are true animal lovers and the vast majority of our staff (and also volunteers) are either vegetarians or vegans!
While "Passagem" is now safer than ever before, it is still one of the poorest neighborhoods in Itacaré, so we recommend taking sensible precautions such as not walking alone at night and not displaying valuable merchandise or large sums of money. On the other hand, by staying with us in Passagem you will have a wonderful opportunity to experience community camaraderie, see first hand the positive impact of your work, learn about social-economic resilience and expand your cultural perceptions about the world.
Finally, power cuts and water shortages are relatively common in Bahia, and our Internet access sometimes is a little slow, comparing to the speed you normally find in your own country. Volunteers staying for longer periods should consider buying a bicycle (about R$350 reais), as it makes faster and easier moving around the city and getting to the beaches!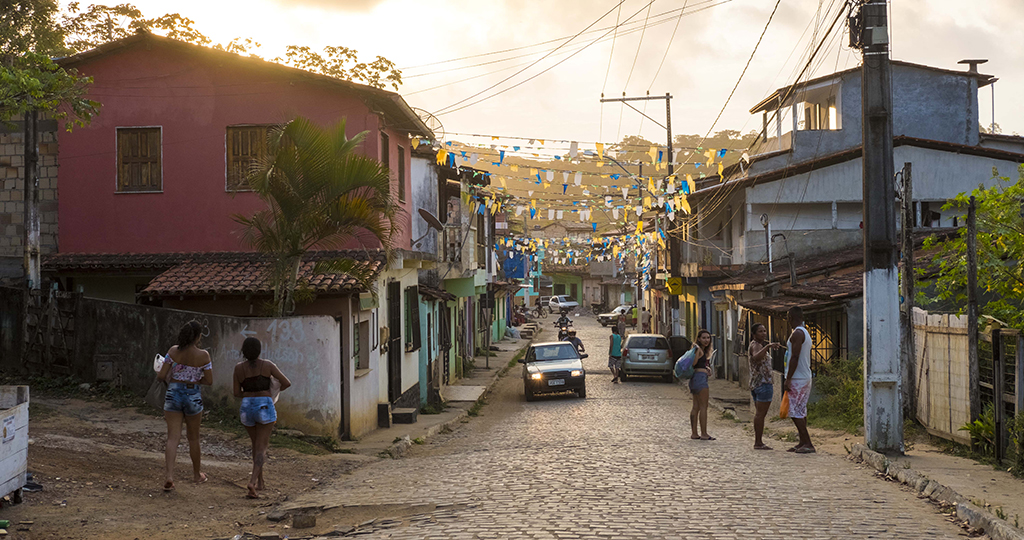 Rent at the ETIV Complex
In addition to the Volunteer Fees, volunteers and interns staying at the house must also pay a fair and reasonable rent, which includes all bills such as gas, water, electricity, WiFI.
We also have fully equipped kitchens in each apartment, with a stove, refrigerator/freezer, cabinets and utensils you need to cook at home.
A percentage of the rental fees (about 20%) goes directly to Field Operations and Project Development so by staying with us you are also supporting the sustainability of our organization.
Rooms are subject to a $250 (USD) deposit which is fully refundable at the end of your stay as long as all the rental requirements on your rental agreement have been fulfilled.
MONTHLY RATE IN US DOLLARS (MARCH - NOVEMBER)
1-bedroom apartments:  $265 per month for 1 person/$350 for 2 people (175 each)

2-bedroom apartments: $350 for 1 person, $435 for 2 people ($218 each)– and keep adding $85 more per person additional)

Private room in 3-bedroom apartment (3ppl):  $215 per month for 1 person

Shared room in a 2-bedroom apartment (4ppl)- $160 pp
MONTHLY RATE - HIGH SEASON IN US DOLLARS
DECEMBER 1 - 20TH, FEBRUARY 18TH - 28TH 2021
( ETIV OPERATIONS ARE CLOSED FOR THE HOLIDAYS BETWEEN DEC 20TH AND FEB 17TH )
1-bedroom apartment: $500 for 1 person/$600 for 2 people

2 -bedrooms apartment: $700 for 1 person/$800 for 2 people

Private room in 3-bedroom apartment (3ppl) - $300  for 1 person

Shared room in a 2-bedroom apartment (4ppl) - $210 pp
ETIV COMPLEX
Rua Magali 60
Bairro Passagem
Itacaré, Bahia - Brazil
45530-000