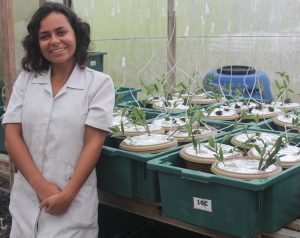 Janaina was born in Belo Horizonte, Minas Gerais, Brazil but has spent time most of her life visiting and living in the Passagem neighborhood of Itacaré, where ETIV do Brasil is located. She grew up playing in the mangroves on the banks of the Contas River, which sparkled her fascination about the natural systems and her interest in pursuing a Biology degree.
During her Masters studies, she focused her attention on the impacts of pollution on the mangroves of the region. She is also involved with an animal protection group, and an educational project teaching morals and human values to local children from underprivileged communities.
Janaina believes that small actions moved by great love can indeed make our communities happier and more just. She joined our team in April 2016.